Crafting Autobarn Farm's online presence
Autobarn Farm stands as a testament to sustainable and health-conscious farming practices, specializing in hydroponic cultivation devoid of any GMOs or pesticides. Our mission in designing their online presence was to encapsulate the essence of their vertical farming, allowing visitors to experience the freshness, dedication, and technological brilliance behind every leaf and vegetable. Dive in to discover how we translated the verdant vibrancy of Autobarn Farm into the digital realm.
Before diving into the intricacies of website design for Autobarn Farm, we began our journey with a comprehensive market analysis. This crucial step allowed us to gauge the unique position of Autobarn Farm in the agriculture sector and tailor a branding approach that resonates. From there, we transitioned into crafting a logo design, ensuring it encapsulated the farm's ethos and stood out in the market landscape, setting the foundational tone for the entire digital experience.
After understanding the essence of Autobarn Farm through our market analysis and branding phase, it was evident that their standout qualities were the pristine nature of their produce and the freshness that hydroponic farming delivers. With these insights in hand, we brainstormed a myriad of taglines, eventually distilling their core values into a succinct and evocative slogan: 'Impeccably clean, unbelievably fresh.' This phrase not only speaks to the quality of their produce but also resonates with the modern consumer's desire for transparency and purity in their food choices.
Impeccably clean,
unbelievably fresh.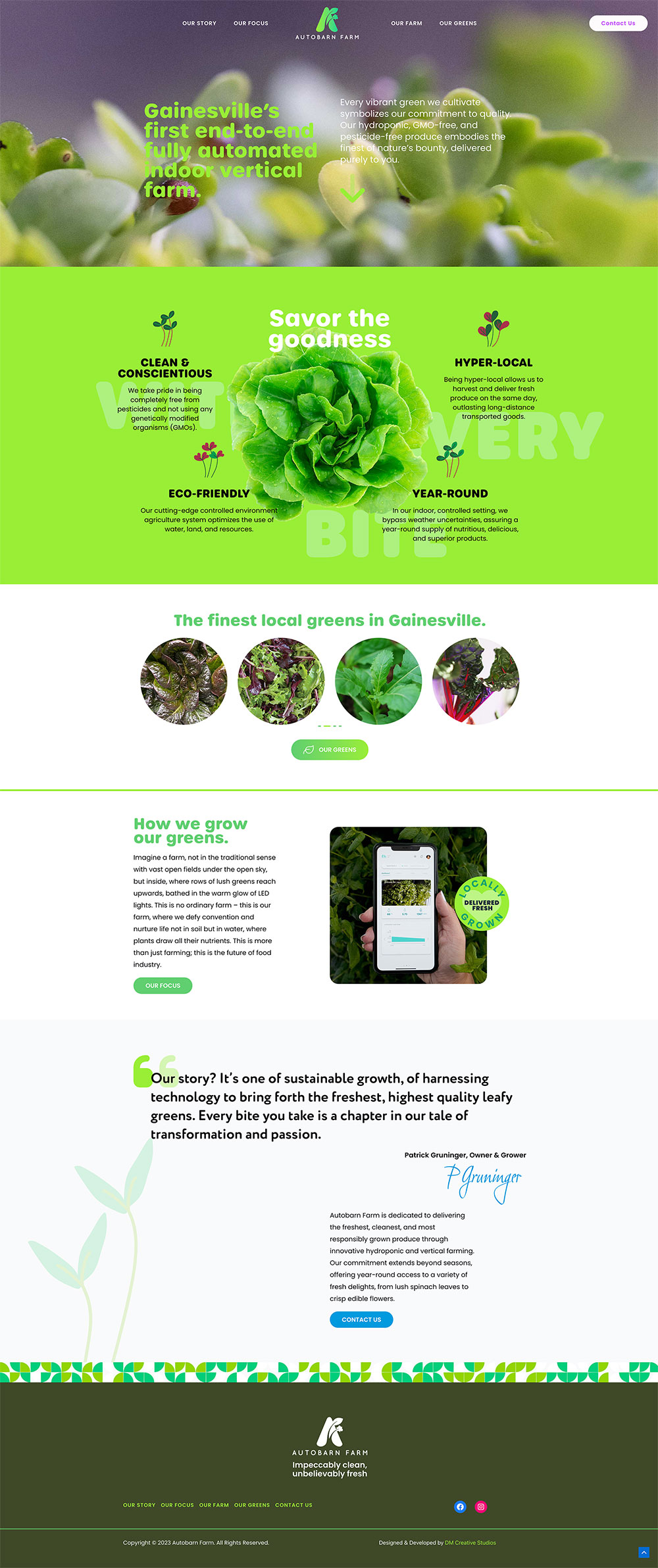 From concept to WordPress execution
With a clear brand identity and slogan in place for Autobarn Farm, we transitioned into the pivotal phase of website design and development. Choosing WordPress as our platform, known for its flexibility and user-friendly interface, we embarked on crafting a digital space that mirrored the farm's dedication to quality and innovation. Our design team meticulously selected themes and plugins that enhanced user experience while the development team ensured seamless functionality and mobile responsiveness. Throughout the process, we prioritized ease of navigation, visually appealing layouts, and integration of the brand's ethos. The result? A WordPress website that not only showcases Autobarn Farm's impeccable produce but also offers an intuitive, immersive experience for every visitor.
As we reflect upon the journey with Autobarn Farm, from initial market analysis to the final brushstrokes of web development, we take pride in creating a digital platform that stands as a true testament to their innovative farming practices and commitment to quality. Every stage of the project was approached with meticulous attention, ensuring the website not only met but exceeded the brand's vision. Today, Autobarn Farm's online presence resonates impeccably with its physical ethos—offering a transparent window into a world of clean, fresh, and sustainable produce. We are honored to have played a part in bringing their digital narrative to life, and we believe the site will serve as an enduring cornerstone for the farm's future endeavors.