Worldwide storage tank provider​
CROM, with offices in Gainesville, FL, Chattanooga, TN, Asheville, NC, and international operations in Doha, Qatar, has been the worldwide leader in the design and construction of prestressed concrete tanks and infrastructure restoration and repair for decades.
When people talk about prestressed concrete tanks — they call them CROM tanks, regardless of who makes them. "It's like how people refer to tissues as Kleenex," said Bobby Oyenarte, one of two new presidents at CROM, a 65-year-old, multimillion-dollar Gainesville company.
When we received a call from CROM, we were a bit surprised, to say the least. We pitched a new website design a couple years earlier, but back then, CROM decided to go with another agency in town. This time, they contacted us with one straightforward mission: to build a website that would be easy for a small team to take over and manage internally, entirely. We decided that WordPress was the way to go – this sophisticated CMS that can be accessed anywhere, anytime, from any device.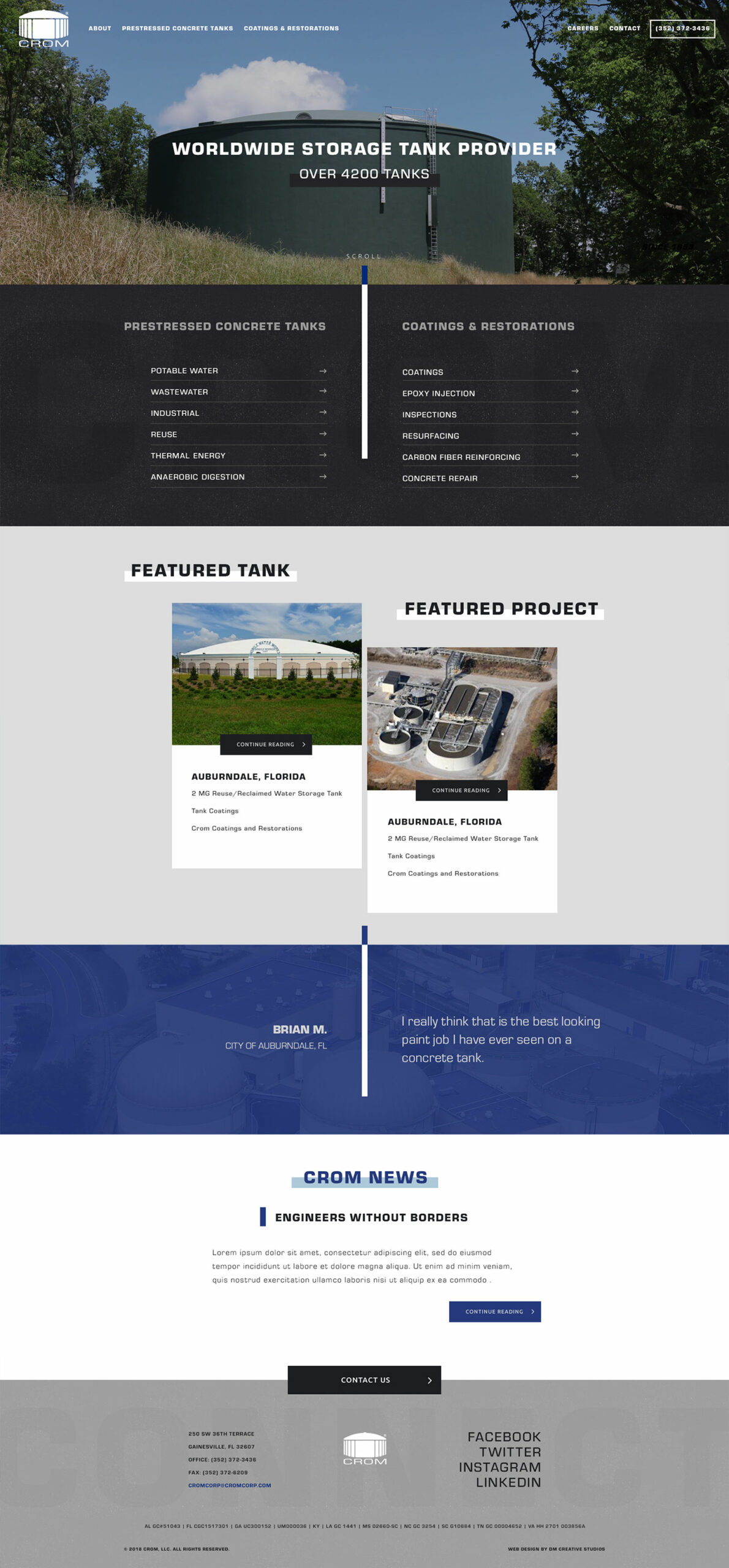 The challenge wasn't just about creating a new website that would be easy for CROM to manage. It was actually about building a super powerful tool that would give them the freedom and flexibility to grow their site as per their requirements.
We made sure that the new website has a foundation that is strong and can be built on successfully in the future. Redesigning this specific website was more than updating information and changing the layout. The newly redesigned WordPress based website features clean and content focused design, an extremely user-friendly Content Management System, increasing lead conversions and quote requests through their contact page, resulting in more opportunities for their sales teams.
99.9%
control over the website by CROM
10x
increase in social sharing