Gainesville Massage Therapy
It's a great day for a massage.
Through massage therapy, Julie and Gainesville Massage Therapy (GMT) massage professionals, help their clients find relief from pain that arises from varied causes. Their philosophy is to meet each person where they are at in their life and their body, in the week, the day, the moment.
Stunning design built to perform

We redefined GMT as premier massage therapists and educators in the Gainesville market by creating a new branded look of their website. From the very beginning, we understand that their presence had to be a reflection of their expertise, knowledge, passion, and personality. The goal was to create a high-end, yet clean and simple look and feel. So, we set the brand apart from everyone else in town by featuring custom photography, calm and soothing color palette, and a new tagline, "It's a great day for a massage."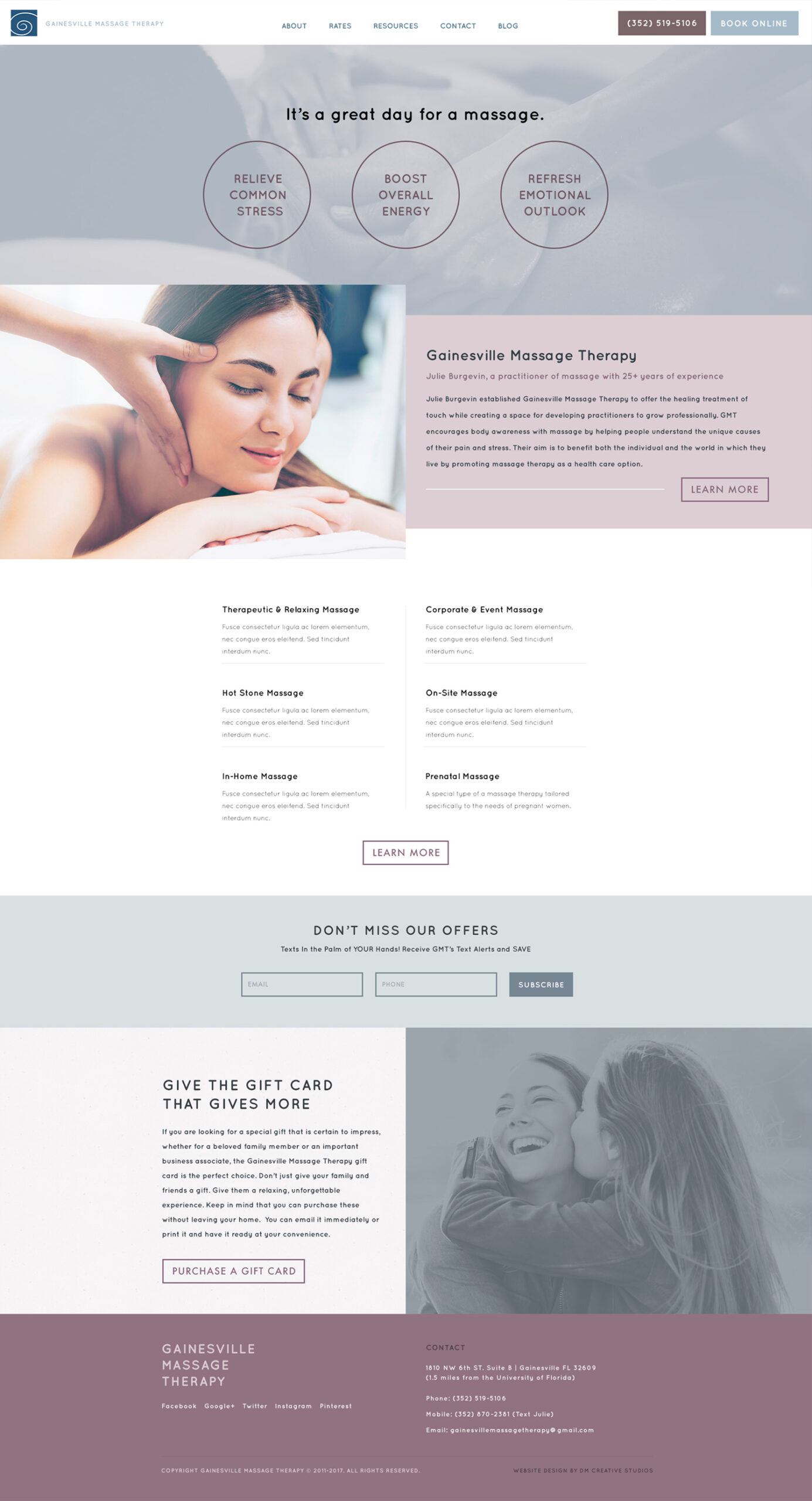 The right website makes all the difference
A successful website must have a design and messaging that appeals to potential customers. It must be structured so it ranks in search engines and is easy to navigate. It must be built to convert site visitors into paying customers. Our client wanted to build a new website that would convey the quality and credibility of services offered, to start ranking organically on Google search for these services and, ultimately, to increase clientele.
We created an easy-to-navigate, mobile-friendly website with a beautiful theme to accurately communicate their brand message and connect with their audience. Based on our keyword research findings, we tailored all the written content on their site (using specific keywords and keyword phrases) that boosted their rankings on Google search, which in turn brought in more visitors and foot traffic through their doors.
+110%
increase in page views.
1st
page of Google results