Partnership For Strong Families
Partnership for Strong Families (PSF) is the leading community-based care agency for foster care, adoption, and family preservation. PFSF serves nearly 5,000 children in 13 counties annually, including Alachua, Baker, Bradford, Columbia, Dixie, Gilchrist, Hamilton, Lafayette, Levy, Madison, Suwannee, Taylor and Union Counties.
"Communities coming together on behalf of the most vulnerable children demonstrates what community-based care was designed to do"– DCF.
The vision of PFSF is to be a recognized leader in protecting children and strengthening families through innovative, evidence-based practices and highly engaged employees and community partners.
We were brought on as a partner in taking their vision, communications goals, and core principles and transform them into a fully-integrated visual brand identity system and online presence.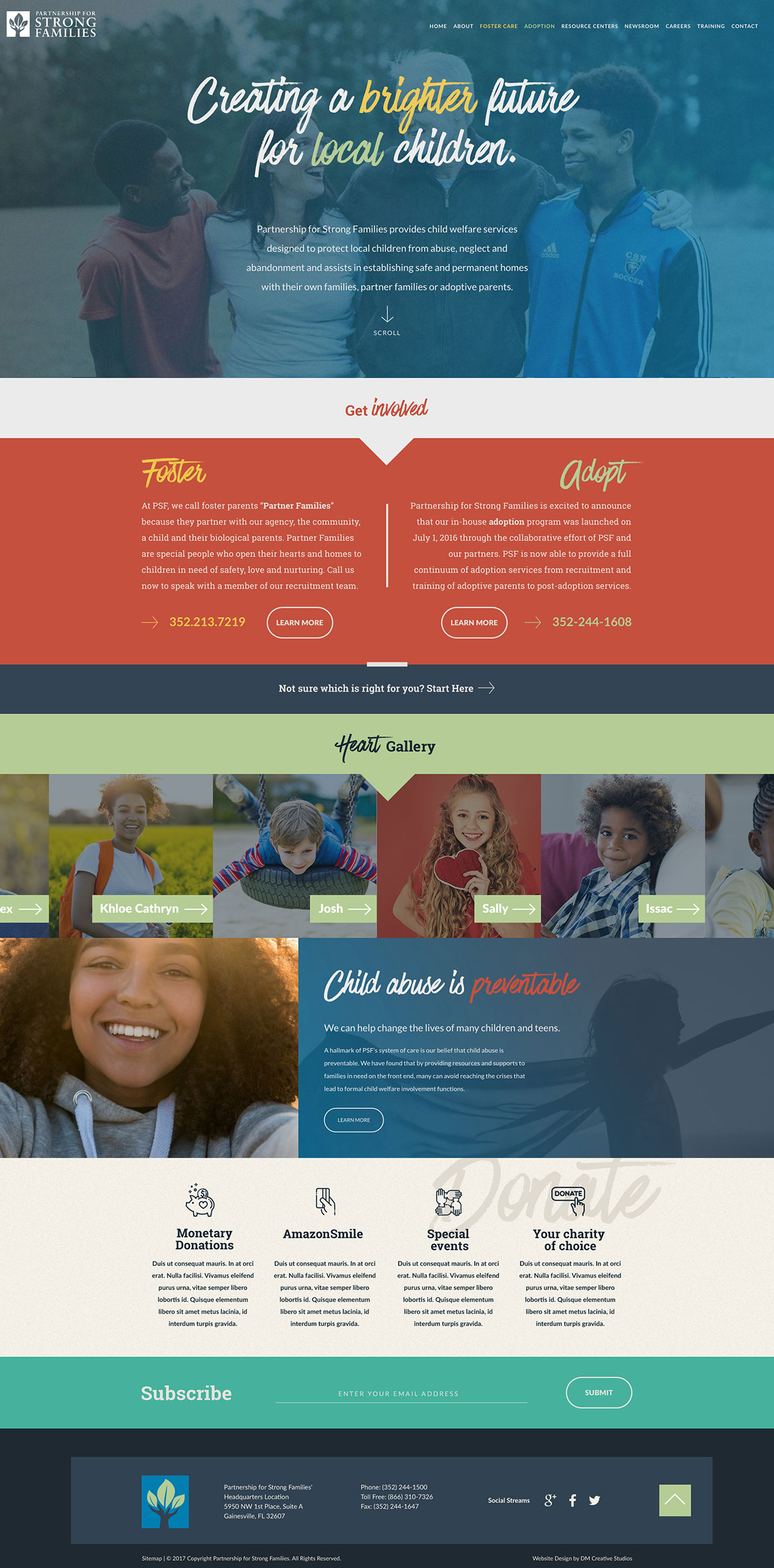 When we first met with the PFSF team, we quickly learnt their biggest struggle was an outdated website that was difficult to navigate and was not responsive. While they had incredible stories of success to tell, an impressive list of partners, and an incredible vision for the future, they needed help translating that into a visual message and a website that inspired others to take actions.
We approached this project strategy-first, starting our research process with in-person meetings in the PFSF office in Gainesville. To developed straightforward and powerful recommendations, it was necessary for us to understand their broad mission and goals, their long-term vision, and the dynamics of the organization. We also needed to learn about the audience behavior and user needs and started creating a transparent and trustworthy platform that serves for the benefit of children and families in the community.
Once we established a new art direction, site architecture, and core content, we built out the new responsive PFSF website on WordPress. The site includes custom home page design, flexible inner page templates, user permissions for editing, optimized photos and videos throughout, and beautiful user interface (UI) design that speaks to the forward-thinking nature of the organization. We built it in a way that would be easy for a small team to manage internally, allowing them to effortlessly add new content to the site without our involvement.
A stunning and impactful website
+110%
increase in page views.
10x
increase in social sharing